A Biography of Johnny Kingdom the wildlife expert
Birth
Johnny Kingdom was born on the 23rd February, 1939. His real name was Walter John Kingdon and he was born in High Bray, North Devon, England.
He attended the local village school in Braydon, and then went on to secondary school at South Molton. On leaving at 16 he became a farmworker before in 1958-1959 he was one of the last batch of young men required to do National Service. He first served with the Royal Artillery and then the Army Regimental Police in Hong Kong.
Early Career
Before finding fame Johnny Kingdom worked as an explosives expert, a lumberjack, a farm labourer, quarrymen, a poacher, and then for half a century as a gravedigger for his local parish.
Johnny has spent most of his life working outdoors, mostly in his native Devon. Life as a self employed lumberjack was hard. He worked with four brothers, their father had been killed by an accident on the job. In an interview later he recalled what a dengerous job it was. First of all he had to climb the tree and loop a rope over the selected branch then use his chainsaw to cut most of the way through. The person on the tractor would then pull the branch to the ground. The process would then be repeated until the trunk was bare. At that stage they put it from just above the ground and the tree would come crashing down, to be hauled away.
Some of these trunks could be up to eight feet across, but the day he had his accident, 35 years ago, he was working alone on a trunk just four feet in diameter. The tractor had an hydraulic arm that was raised and lowered to secure the tractor in place when it was winching. On that fateful day the chain holding the heavy anchor snapped and the hydraulic arm, which was on a swivel mechanism, spun round and crashed through the side of the cab and broke the bone above his eye, and his bottom jaw, and front teeth. In a typically cavalier way Johnny says how lucky he was, stating that had the metal hit a couple of inches over it would have smashed his nose into his brain and killed him.
He was knocked out and wehen he eventually came to, covered in blood and his right eye completely shut, he drove himself along the narrow path to the main road and home. he was rushed into hospital The injury was sever enough that he was forced to spend some time convalescing. This was hard for an active outdoor type like Johhny and he acquired depression.
It was then that a friend, trying to help him recover, lent him a video camera. He suggested to Johnny that he should film some of the wildlife in his native Exmoor. This was the start of his 20 year media career, and Johhny went on to create 28 wildlife films and then write his autobiography.
Check Price of "Johnny Kingdom: a Wild Life on Exmoor"
When Johnny first set out filming, he almost gave up after filming a herd of deer on his first day, only to discover when he got home that he had confused the on and off buttions. The fact that Johnny had no formal training never held him back. He taught himself to edit his own films and then began to sell his films on VHS at local markets and country shows.
That was when he was spotted by TV producer, James Cutler, which in turn led him to his first TV film for Yorkshire TV. This film was titled: Johnny Kingdonm and the Secret of Happiness, and shown in November 1993. He went on to create thre films for HTV
Johnny Kingdom: A Year on Exmoor 2006
At the same time that Johnny published his autobiography he had a series on British TV Channel BBC1 (that also hosted shows like Coogans Run) which was called "Johnny Kingdom: A Year on Exmoor." In this series Johnny kingdom presented a look at the rural life and the wonderful wildlife on the woodlands and moors of his beloved Exmoor.
Check price of Johnny Kingdoms Wild Exmoor DVD
Series 1 – A year on Exmoor (30 Minute Episodes)
Episode 1 – Farewell Old Friend – The Bishops Nympton Flower Show.
Episode 2 – Strange Sights – On the trail of red deer calves , but gets distracted by other wildlife.
Episode 3 – Close Encounters – Early Summer and Johhn is determined to film those red deer.
Episode 4 – I'd love to see a badger – Trying to film badgers but his bait is being eaten by squirrels, pheasants, and rats.
Episode 5 – New Life and old Friends – It's Spring, Johnny is worried about his three-legged pet deer Bambi.
Episode 6 – Birds and beasts – Wild boars let loose on the moor, also some spoonbills
Episode 7 – When Johnny met Tommy – Johhny has an injured Buzzard to look after, also exmoor foals.
Episode 8 – The Round-up – After watching the pony round-up he is off to see the salmon jumping
Episode 9 – Masters of the moor – Autumn, its red deer mating season
Episode 10 – Autumn and Johnny is preparing a Badger Hide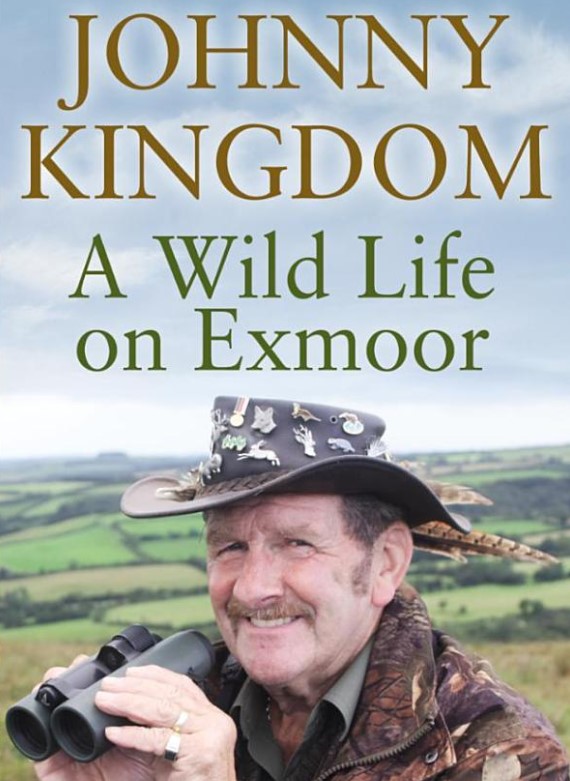 Check price of Johnny Kingdom A Wild Life On Exmoor
Johnny's New Kingdom 2008
This series follows Johnny kingdom as he develops a 50 acre plot of land on the edge of Exmoor. His dream is to create a huge pond that will attract new wildlife to the region.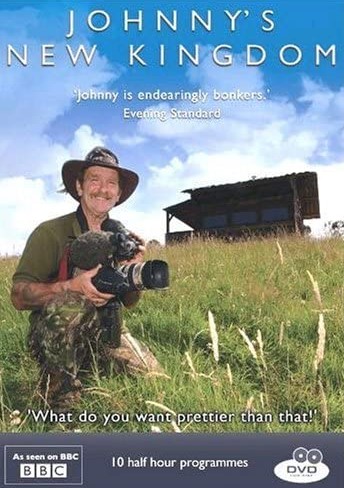 Check price of Johnny's New Kingdom
Series 1 – Johnny's New Kingdom
Episode 1 – I've always wanted a pond – January and Johhny makes a pond, and filmds otters in the River Torridge
Episode 2 – My Floating Hide Thing – Johnny build an obstacle course for badgers and johnny's floating hide.
Episode 3 – What Do You Want Prettier Than That? – Johnny wants to introduce hares
Episode 4 – Spring Is in the Air – Hottest spring ever and water levels are dropping, leading to an unexpected find.
Episode 5 – The Bluebells Are Coming – Jackdaws nest and a family of foxes
Episode 6 – Bye Bye Birdie, Bye Bye! – The weather has changed, at last, and it's raining.
Episode 7 – O Badger, Where Art Thou? – Early June and Johnny has not see badger cubs yet
Episode 8 – In the Midst of Life… Summer is here and Johnny conquers his fear of flying and horses.
Episode 9 – The New Beast of Exmoor? – Johnny wants to film wild boar on his reserve
Episode 10 – Home at last – Autumn, and Johnny wants to film Stags
Johnny Kingdom's Year with the Birds 2010
Johnny Kingdom spends a year tracking and filming some of the native bird species he finds near his home. This series was the follow up to he earlier work Johnny Kingdom: A Year on Exmoor 2006. However, this series only had three episodes.
Episode 1 – It's Autumn and we see Johnny making preparations to film the great spotted woodpecker and the wren.
Episode 2 – Happiness when Johnny spots a pair of Canada geese nesting on an island in his pond.
Episode 3 – It's early summer and Johnny has set his target as Barn owls and Woodpecker chicks.
Johhny Kingdom Filmography
Johnny Kingdom and the Bears of Alaska 2013
Autumn watch 2011 TV Series
Country Tracks 2011 TV Series
The Wright Stuff 2011 TV Series
Johnny Kingdom's Year with the Birds 2010 TV Mini-Series documentary
Cash in the Celebrity Attic 2009 TV Series
Johnny's New Kingdom 2008 TV Mini series
Loose Women 2008 TV Series
Johnny Kingdom: A Year on Exmoor 2006 TV Series documentary
Johnny's Kingdom, The Secret World of Exmoor. 2002
Later Years
In later years Johnny Kingdom regularly manned a stall on Barnstaple Pannier Market where he would sell signed copies of his books, DVDs, and his photography.
Johnny was always an activist for his community and in 2008 Johnny was among those who delivered a petition to 10 Downing Street, opposing the closure of Bishops Nympton village post office
Johnny's Death
Johnny Kingdom died at the age of 79 when a digger he was driving toppled over on 6th September 2018. He had been moving logs with a Hitachi digger. He had been trying to move an oak log with an estimated weight of 1.25 tonnes. A combination of the weight of the tree and the incline resulted in the Hitachi toppling over. Johnny was found at 8pm that night by his son Stuart. he was buried in a grave he had dug himself at the local church.
Johnny met his wife Julie and they remained married for 56 years. he was survived by his sons Stuart, and Craig, and four grandchildren, and two great grandchildren. His funeral was reported widely in his local area and was well attended. Johnny Kingdom was regarded as one of the leading advocates for North Devon in recent years. A man who never forgot his roots.